Smoke Can and Road • Car Flares
Smoke Can
Disaster Training, special effects filming, air flow testing
Multipurpose K and K smoke can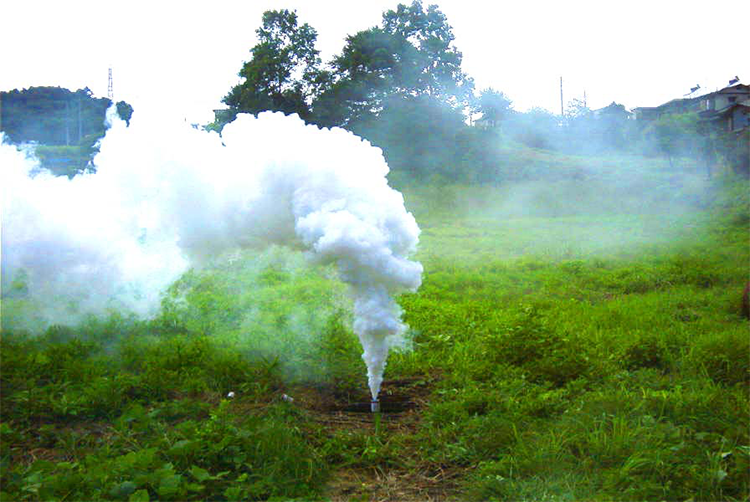 K and K smoke can produce minimal dispersion of sparkle, and made for sufficiently useful smoke effects. They're not only special effects for the stage, but combining its useful weather observation and frost prevention functionality make for an all purpose smoke flare.
Product Specification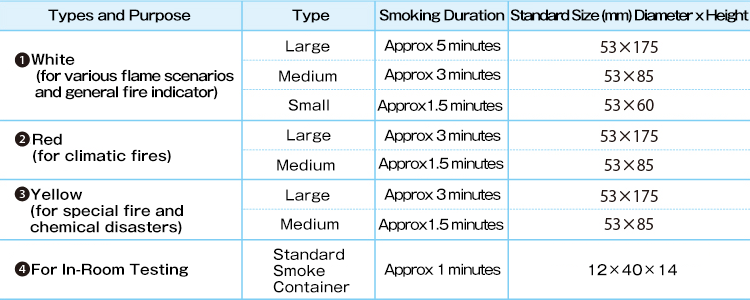 Non-Pollution Smoke Flare
Recommended when considering a safer non-pollution smoke flare for events with lots of children like school sporting events.
Due to risk, hazardous and explosive chemicals not used.
Complying with Tokyo Fire Department's Smoke Flare specification, there are no irritating odors in the smoke.
There is no metallic corrosion because there is no alkalinity or acid in the smoke.
Non pollution smoke flare.
Burning duration: approx 90 seconds.
Smoke color: white
Period of Validity: 2 years
---
Flares for Road Work 5 minute / 15 minute
Smoke flares for use around the clock to safely protect road work.
5 minute / 15 minute is an improved vehicular emergency safety flare for road work use, which does not require a sale and use permit because the regulation is similar to recreational signal flares.
Regulation of 15 minute as a signal flare requires a sales permit, but a permit to sell it is not required for road work.
Product Characteristics
5 minute / 15 minute has an attached base skirt for road protection.
15 minute is built to prevent rolling, and ignition time can be optionally set in the base for continues use.
It is especially best for preventing collisions on the highway during long periods of continuous work and patrols.
---
Vehicular Emergency Safety Flare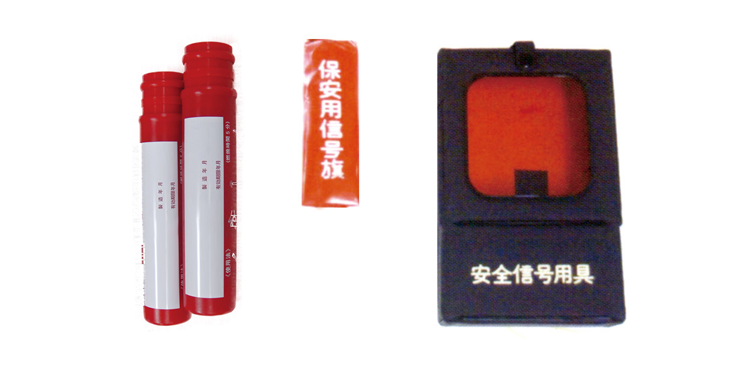 Strike Ignition Type Emergency Safety Flare
Always have ready for safety between a disabled vehicle and other vehicles for every accident situation (railroad crossing engine stop, road side tyre change or vehicular inspection) regardless the time of day.
Be sure to use the red flame in rain, dense fog and heavy winds, and keep a distance more than 1.5 km in poor visibility conditions.
Product Specification


※ Thinness:130×27Φ,Thickness:150×33Φ,Candela:160cd